Facebook launches to the public and Sexyback spends seven weeks atop the Billboard Hot 100 chart.
Also Joel and Stephanie meet for the first time! Due to braces and poor hair choices, it was only love at first sight for one of them.
The first iPhone release! The last Harry Potter book! Peyton Manning's first Super Bowl!
In local news, Joel convinces Stephanie to be his Model United Nations partner and spends four days putting on the charm. She very diplomatically decides that they should be friends and continues to date another guy.
Michael Phelps wins big at Beijing, The Dark Knight wins big at the box office, and Barack Obama wins big at the polls.
Joel wins big by convincing Stephanie to go out with him thanks to a well-timed mix-CD and months of carefully crafted T-9 text messages.
Things start getting serious. The Swine Flu epidemic hits the U.S. as the economic recovery takes its first steps forward. Single Ladies drops, Avatar hits theaters, and the first 3G network comes online.
Stephanie takes Joel to prom before heading off to Yale in the fall. They commence the first of many long-distance chapters.
Instagram launches and boyfriends the world over start having to wait to dig into their pancakes so that their partner can get just the right picture.
Joel joins Stephanie at Yale, and they spend months perfecting the butt-to-butt sleep formation on a twin XL mattress.
J-Lo and Marc Anthony separate. Ashton Kutcher and Demi Moore split.
Joel and Stephanie break up. Wait what?!? I thought this had a happy ending! It does, but these things take time. Keep reading.
Linsanity takes over the NBA, Gangham Style takes over YouTube, and Fifty Shades of Grey takes over moms' imaginations.
Meanwhile, Joel and Stephanie are – still broken up?!? That is, until Thanksgiving when a late night heart-to-heart in a Yale basement convinces them to give it another shot.
Peyton Manning breaks the single-season TD record and Breaking Bad signs off for good.
Stephanie graduates and moves to New York to begin life in the working world, while Joel spends a final year in New Haven. Chapter 2 of long-distance is split between weekend runs around Central Park and morning hangovers on Howe Street.
The Ice Bucket Challenge. Ellen DeGeneres' Oscars selfie. Jimmy Fallon takes over The Tonight Show.
Joel graduates and moves to New York just seven blocks from Stephanie to start working as a consultant . Long distance is over! That is, until he is sent to Arkansas from Monday-Thursday each week.
Caitlyn Jenner introduces herself, and Brian Williams gets busted for spinning tales. Peyton Manning (can you tell one of us is a fan?) sails off into the sunset after winning his second Super Bowl.
Stephanie graciously lets Joel move into her apartment and teaches him the finer points of domesticity. There is a notable uptick in relatives asking when they are going to get married.
Moonlight hits theaters, Stranger Things hits Netflix, and Lemonade hits iTunes.
Then in a span of 10 days: the Cubs win the World Series, Trump wins the White House, and Joel wins by successfully proposing to Stephanie. Not a perfect game, but 2/3 ain't bad.
Warren Beatty and Faye Dunaway flub the Oscars, and the Atlanta Falcons blow the Super Bowl.
Joel and Stephanie pack up their things and move to Sweden where they spend six months eating meatballs and traveling around Europe. They are far from home but at least long distance is still over! That is, until they both get new jobs in different cities. Long distance Chapter 3 finds them still very much in love, and splitting their weekends between their longtime home in Chicago, and the home they've built for themselves in New York over the past five years.
You'll have to help us write this chapter - see you all in September!
Maid of Honor | Sister of the Bride
Steph has been with Claire at her most difficult (the terrible twos, twelves, twenties, etc.) and has stuck with her the whole way, so of course Claire's honored to be Maid of Honor for her favorite sister. When Steph changed the way she wrote her "a's", Claire changed hers to match. When Steph changed back to cursive style, Claire totally coincidentally also changed back at the same time! So they're pretty much identical. Look for Claire hoarding canapés or trying to harmonize with the band.
Best Man | Brother of the Groom
Kyle's first act as older brother was a magic trick to make Joel disappear. Thankfully, it didn't pan out, and their "broski" bonds continued to flourish over the next 26 years. Kyle's friendship with Joel continues to defy the space/time continuum, and geneticists' understanding of shared DNA — could two brothers be any more different, yet stay so close? Come September 22, this best man will be thrilled to (officially) gain another sibling in Stephanie, whom he's had the pleasure of knowing since the beginning. It's going to be an exciting celebration, and Kyle can't wait to boogie down with you!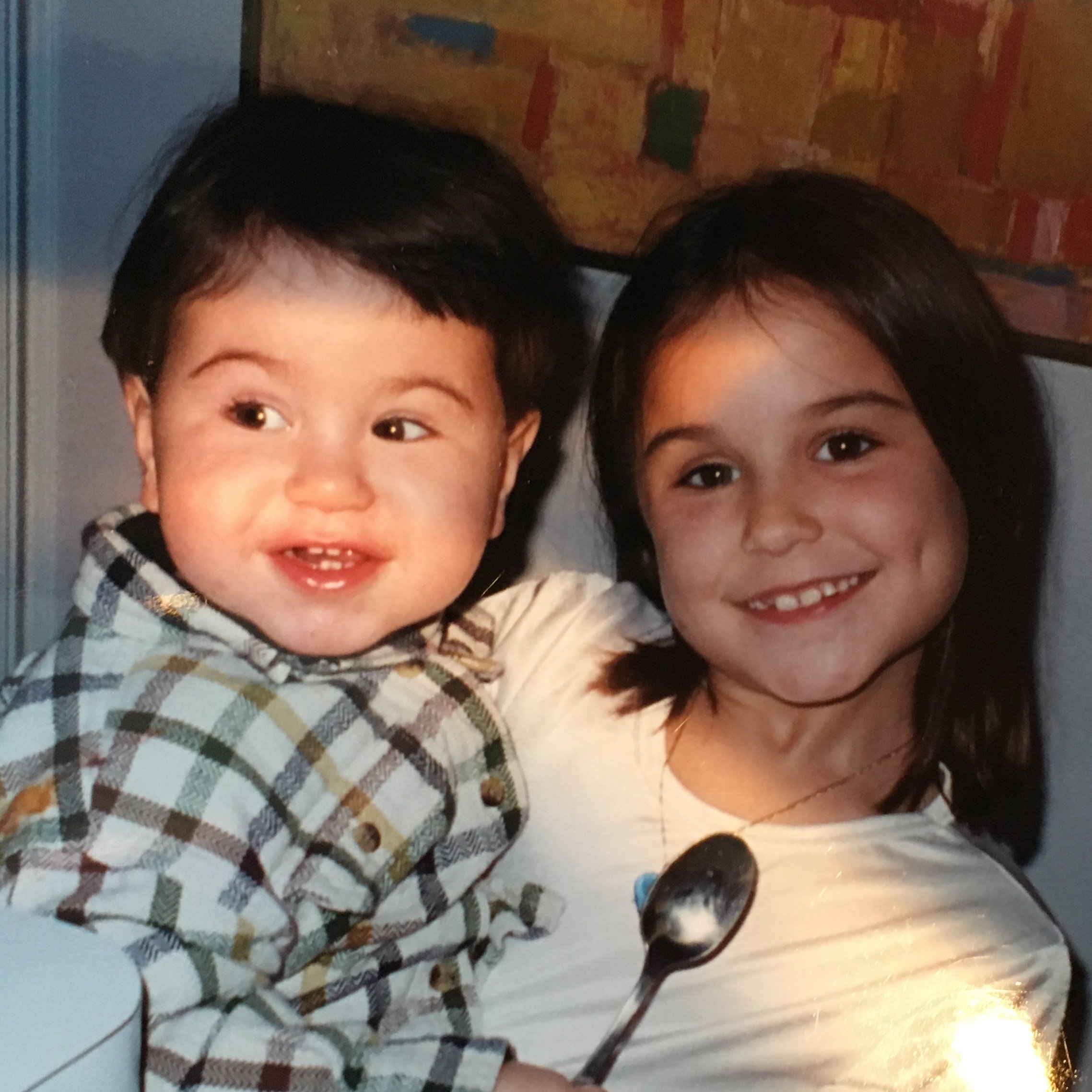 Bridesman | Brother of the Bride
Alex is thrilled to be a bridesman (?) in Joel and Stephanie's wedding party. Alex met Joel when he was in 5th grade, kicking off a 9 year contest for what is essentially the same niche in the Mo-Riv family: Highlights from the decade-long competition have included Joel supplanting Alex as Herb's favorite grandson, Joel supplanting Alex as Cindy's favorite son, and Alex supplanting Joel as the most athletic participant on family vacations. All in all, Alex considers their current status to be a tie, and he is honored to attend what is sure to be the premier gay networking event of the fall season.
Maid of Honor
Allyson first met Stephanie at Hebrew school sometime around age twelve. Stephanie was known to Allyson then as the girl who always got to leave early for soccer games (sorry, Bob and Cindy). They really became friends in high school, though, and bonded over their hatred of a certain history class, their affinity for abbreviations (abbrevs), and their frequent visits to Dee's restaurant. Joel came along at some point, and a magical, Bulls-centered friendship was born. Allyson is so honored to be a part of Steph and Joel's big day and can't wait to celebrate with you all!
Groomswoman
Abby is thrilled to be a groomslady in Stephanie and Joel's wedding party. Joel and Abby became friends when Abby was held back and had to do a second year of nursery at Anshe Emet. Enter Joel. The much older, wiser Abby tutored him every day, especially when it came to singing lessons for their 8th grade production of Oliver!* Basically, Abby's mentorship and emotional support allowed Joel to make the grades necessary to gain entry to the prestigious Walter Payton College Prep, where he met and fell in love with the amazing, beautiful, and talented Stephanie. You're all welcome!
*in which Abby played Oliver and Joel played Fagin, the leader of the ragtag group of orphans and thieves of which Oliver joined after being sold by Mr. Bumble (portrayed by fellow groomslady, Justin Levin).
Groomswoman
Daisy's brothers told her to look out for their cool camp counselor named Joel at Yale. She met him on day one and convinced him to run for student council with her. Thankfully, both of their judgement have since improved: they both retired from student government after a year, and Joel is now marrying the wonderful Stephanie. From student council to securing Joel the job of sticking his hand up a horse's urethra, Daisy and Joel have been through it all together, and she can't wait for her debut as his groomswoman.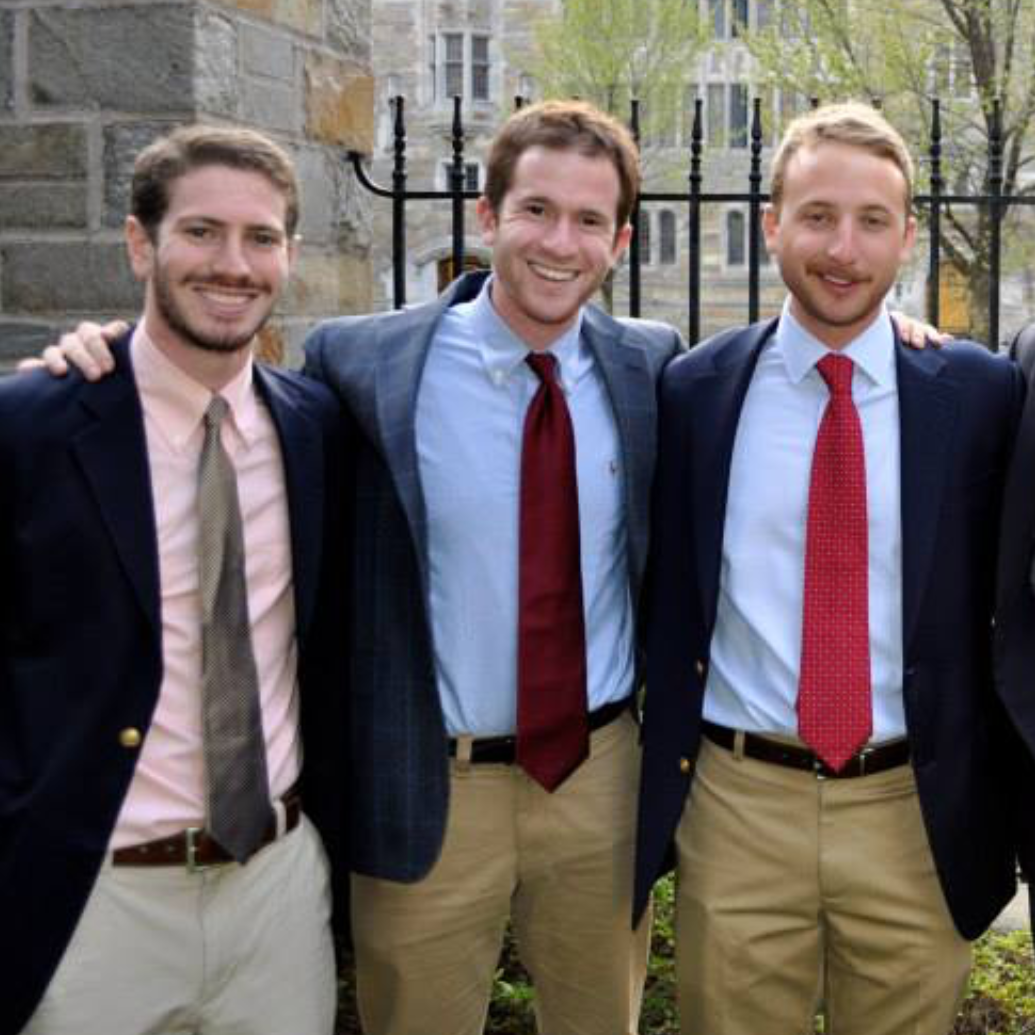 Groomsman
Joey has known Joel and Stephanie since freshman year of college. Joey and Joel became close friends due especially to their mutual love of sports. Amazingly, Joey's sports opinions are invariably superior to Joel's. As are his looks, even though an unfortunate genetic sequencing error has led some to conclude that Joel and Joey look kind of similar (Joey's girlfriend once couldn't tell them apart). Joel has been an incredible friend from New Haven to New York to Philadelphia to Chicago to London, where Joel helped Joey in his deepest time of need at Tiger Tiger (feel free to ask).
Groomsman
Justin is excited to be part of the Rivkin wedding! Justin has known Joel since their preschool days and met Stephanie when she, being a lot older, would drive Joel and Justin around Chicago. After college, along with Justin's brother and a family of mice, Justin and Joel lived together in Manhattan and sometimes forgot to answer the door when Stephanie was knocking. If you have the privilege meeting Justin during the wedding weekend, ask him about the time he and Joel had dinner – or about the time he cheated on a test when Joel's dad was the teacher.
Bridesmaid
Maddy is very excited to be a part of Stephanie and Joel's wedding party, and can't wait to celebrate in September. As one of Stephanie's first cousins, Maddy and Stephanie grew up spending holidays together, pairing up on family trips, and sometimes confusing people for twins (see photo). When they both moved to New York after college, their friendship was solidified when they realized they shared many similar interests: sushi, "deep conversations", and major indecisiveness. Maddy has really enjoyed getting to known Joel over the years and is excited for him to officially join the family.
Bridesman
Ric and Stephanie spent their first week as college freshmen backpacking together in the Catskills. Ric initially wasn't thrilled about the girl who stopped every two steps to snap a photo or scribble in her journal, but he eventually got over it, and the two became close friends. Too close, from Joel's perspective. Joel initially wasn't thrilled about the devilishly handsome guy spending so much time with his girlfriend. Luckily he eventually got over it too, and another friendship was born. Ric hails from Minnesota, enjoys hiking and snowboarding, knows tons of Excel shortcuts, and is still devilishly handsome.
Officiant
Bobby met Joel & Stephanie on a camping trip just before freshman year of college. Joel asked strange hypothetical questions and talked about how many books he'd read, Stephanie was a cool older trip leader. Six years later, Bobby was the only one in the room crying during their engagement.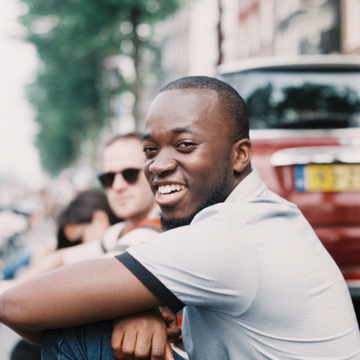 Groomsman
Charles is a Prince from Ghana. During freshman year of college, he was forced to share a room with the commoner they call Joel Sircus, who lacks any royal grace or decorum. Charles also met the beautifully regal Stephanie during this period – she was a regular and welcome houseguest. Charles is excited to participate in an American wedding festival. You will find him leading an Azonto dance movement, which you should absolutely join. Charles might even give you a glimpse of his famous royal beads if he's in a good mood.
Groomsman
Charlie met Joel when he was three at Anshe Emet and proudly calls Joel his oldest friend. They became fast friends, but Charlie soon moved to the suburbs at age four. In the early years, they remained friends through sleepovers at each other's houses. They attended Camp Nebagamon together for nine summers, where their friendship grew stronger. Fast-forward to post-college, Charlie lived in the same NYC building with Joel and Stephanie for 1.5 years, where Charlie and Joel spent many hungover mornings in Charlie's apartment while Stephanie was either still sleeping or being a productive member of society.
Groomsman
John is very excited to take part in Joel and Stephanie's wedding! He first met Joel at an improv show in 2009, however, as John spent the majority of his college years either in the library or exercising – and generally maintaining his composure in all of his pursuits – his memory of Joel in college is fuzzy apart from their cohabitation. He is pretty sure that it was Stephanie who invited him to the wedding, as he recently enjoyed a fine sushi dinner in Stockholm with her. (Joel was "working".) John is a retired sourdough baker living in California.
Groomsman
Max grew up in the Virgin Islands and spent his childhood perfecting his math skills and tasting rum semi-professionally. From these endeavors arose the Nickbarg Theorem, a proof that still perplexes some of the more simpleminded groomsmen. Upon arriving at college on the mainland, Max lived with Joel and the two became the best of friends. Max is a passionate home cook and has spent dozens of hours making homemade vodka sauce to bribe Stephanie into playing Super Smash –a game at which her skill surpassed Joel's almost immediately. As an avid sailor, Max eagerly awaits his invitation to captain Joel and Stephanie's honeymoon in the South Pacific.
Bridesman
Ryan met Stephanie his freshman year of college, immediately mesmerized by a GCal filled with so many colors and concurrent appointments. Upon chatting with her, he was drawn to her warm smile, her endless love for bringing friends together, and pristine organizational skills (something Ryan severely lacked). Stephanie and her roommates unofficially adopted Ryan as their 5th suitemate, as he could always be found on her couch, studying (...sleeping). He was later introduced to Joel and other Rivkin family members and is drawing-up adoption papers to become an official member of the Rivkin family. They did not know this until now.
Bridesmaid
Symone has known Stephanie and Joel since the days when AIM was the preferred way to unpack the happenings of the Payton and Parker hallways. Joel had a really fabulous shaggy hairdo, and Stephanie had great taste in picking new friends. Symone has loved Stephanie since the days of singing Rent, weekly sleepovers, and lots of grilled cheese sandwiches at Savor the Flavor. Symone has been Joel's NUMBER ONE fan since she found he was a die-hard Duke fan. She is so excited to celebrate the union of these two life-long friends and couldn't imagine ending her 10+ year Facebook marriage to Stephanie for anyone other than Joel.
Officiant
Meredith and Stephanie met in their very first class, introductory Arabic, on their very first day of Yale. Soon after, Meredith and Joel undertook their first secret mission to surprise Steph: Joel came to Yale for her New Blue (a cappella) jam. Since then, Meredith and Steph have been forgetting all the Arabic they learned, and Meredith and Joel have been training for their most recent secret mission to surprise Steph: Joel proposed to her - and good news, folks: she said yes! Meredith can't wait to stand beside Steph and Joel, two of the very best people she knows, on their big day. [Meredith offers this photo Joel took three seconds too early of her and Steph in Stockholm during the couple's relocation there.]
Groomsman
Calvin met Stephanie and Joel at Yale during a party in the sailing house basement. In N64 Super Smash team battles, Calvin is 373-12 when Joel is on the opposing team and 29-0 when it comes down to a Calvin–Joel 1:1 (Joel is exceptionally easy to edge-guard). Calvin, who loves to take the long way home, will finish any tub of tuna salad larger than 30 oz if Joel eats the first third. When the DJ asks if everyone can join him on the dance floor, Calvin will be the one saying, "1101011010101!"
Bridesmaid
While Isabel may be Stephanie's most forgetful friend, she still remembers Stephanie's excitement after that fateful Model U.N. conference in 2007 – the conference Stephanie spent the entire time hanging out with her future husband, Joel. Ever since then, the couple has graciously included Isabel in outings at Ringo Sushi, Thanksgiving Turkey Trots, and football tailgates. Isabel is so happy to now be a part of their wedding and celebrate the marriage of two extraordinary people.
Bridesmaid
As Stephanie's roommate in New York, Katherine has the great honor of being Stephanie's other fiancé. Like Joel, Katherine is a redhead, is in constant communication with Stephanie over iMessage, email, Gchat, Instagram, and Snapchat, and tucks Stephanie in at night before she goes to sleep. Unlike Joel, Katherine's hairline is here to stay.
Groomsman
Many have likened Ric and Joel's seventeen-year relationship to that of Wile E. Coyote and the Road Runner. A regrettably devoted Cubs fan, Joel had to watch Ric's far superior White Sox win the World Series in 2005, while his feeble team was on a then-ninety-seven year drought. Two years later, in their final year at Camp Nebagamon together, Joel and Ric were both selected to captain teams in their camp's preeminent competition. Ric handily won the day, while Joel's third-rate squad limped to a predictable third place finish. Ric has enjoyed watching this dynamic continue for years, and although it may appear that his luckless adversary seems to have turned things around by marrying a smart and lovely woman in Stephanie, Ric would remind you that she, too, is an ill-fated, feeble Cubs fan. If there are any White Sox fans in attendance, for instance, anyone who has thrown out the first pitch for a Sox game, Ric would love to meet them.
Groomsman
Will can't wait for Joel and Stephanie's big day and is honored to be in the wedding despite his (very minor) role in a Seinfeld-ian wine spill at the couple's old apartment. Joel and Will share a love for the musty air of 22 Lynwood Place, the cooking of fellow groomsman Max, and the ambiance of the now-defunct Pizza Pub. Having gone to college with them both, Will is certain that proposing to Stephanie was the smartest thing Joel has ever done.
Groomsman
Zack grew up in Chicago but didn't meet Stephanie and Joel until college, where he and Joel lived together for two years in a charming Art Deco villa. With the lovely couple, Zack most fondly remembers road races and shared vacations, and he looks forward to more in the coming years. If you run into him this weekend, please remind him to laugh during jokes, and be aware he is not technically a medical professional. It's an honor to be a part of the wedding, and Zack could not be more excited for the bride and groom and their future together!